The 10th edition of the Ovation Red Carol, the annual Christmas concert organised by Africa's leading celebrity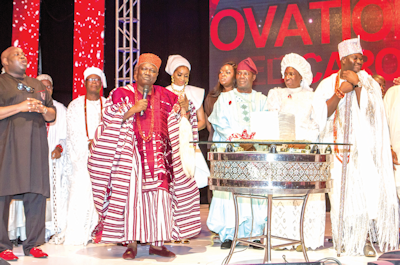 journal, Ovation International Magazine has come and gone but the unanimous verdict of all present at the showpiece event and those who watched live via television from the comfort of their homes was that it was a pulsating and electrifying event that exceeded all expectations and one that left all-comers yearning for more.
The enthralling ambience of the Eko Hotel Convention Centre venue, the superstar line-up of performing artistes, the impressive array of prominent guests that populated the audience, the impeccable organisation and seamless flow of proceedings combined with a climactic, news-breaking cameo that ended a long-standing feud between Ovation Publisher, Bashorun Dele Moodu and a top artiste, Davido, all made for a most unforgettable experience.
Right from the picturesque walkway creatively designed by Kingsley James and his team from IDCL Limited, leading into the venue, guests were immersed in the unique Ovation experience as they sashayed through a blue carpet that was brightened by a constellation of large and colourful iconic covers of Ovation International Magazine and bold statements from our famous Publisher and Reverend Mother Esther Abimbola Ajayi, the powerful Woman of God whose foundation, the Esther Ajayi Foundation was the sole sponsor of the event.
All first class event will usually have superb anchors which was why the duo of ace comedian, Gbenga Adeyinka and compere par excellence, Dayo Benjamin-Laniyi, were the favoured choice to expertly steer proceedings throughout this sensational evening of unbridled fun and excitement.