There are not very many people the mention of whose names trigger a ton of interest among ardent watchers of the lifestyles of the rich and famous like Chief (Dr.) Folashade Noimat Okoya, the gorgeous and stylish wife of billionaire business tycoon, Aare (Dr.) Rasaki Akanni Okoya of the Eleganza fame.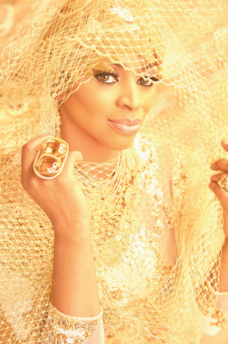 In the two decades since her name first emerged on the society pages of Nigeria's leading journals as the ravishing young beauty that had captured the heart and affections of one of Nigeria's richest and most influential men, she has remained a fixture on the social circuit, taking up countless acres of gossip column, with every publication jostling to get a piece of the breathtakingly adorable newsmaker, fashion icon, businesswoman and philanthropist.
It was therefore no surprise that the recently appointed Group Managing Director of Eleganza Industrial City would once again be the talk of the town when she turned 40 and celebrated the milestone in some eye-popping fashion in Lagos, Nigeria. Famed for her penchant for the exceptional, her gig was storybook material, supported by the deep pockets of her billionaire beau who pulled all stops to stage the most sumptuous celebration of the year for his loving wife of 18-years at their sprawling Oluwanisola Estate on Lekki-Epe Expressway, Lagos.
Of course, the name Okoya rings an ethereal tone of prestige and any event that bears that name is primed by design to make a statement and this black-tie party did make such a statement-one of class and distinction.
On the morning of the stellar celebration, stunning images of the celebrant emerged on the internet and created a buzz on social media leaving many drooling in anticipation of the gripping pictures that would follow from the birthday proper which was strictly by invitation. Everyone knew that the tantalising images that littered the web were indeed juicy teasers of what was to come later that day.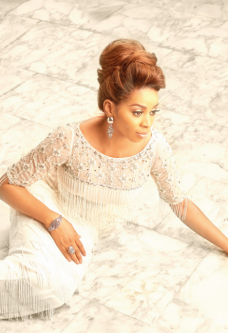 Artistic creations of celebrity photographer, T Y Bello, who over the years has become the toast of the high and mighty for pictorially documenting their lives and times, this was Bello's commentary on social media about the iconic images she took of the celebrant:
"I've photographed Shade Okoya for over ten years. I love this woman. She absolutely understands where I'm trying to go with the images and she actively works alongside the whole time as if she wasn't the client-an amazing collaborator. This is one shoot where I never need a stylist. She knows what works-she just does. For her 40th portrait I looked for interesting ways to pay homage to some of the strong images I had made of her in the past. The red outfit that seemed to float over the furniture was a mimic of the portrait I made of her years ago in water with fabric floating around her. The gold outfit with the net was a remake of portraits I made at her wedding. We brought in some interesting jewellery she designed herself from the day as well – amazing. It was fun finding new ways to revisit old themes. This is what growing up is about – owning ALL our experiences-the lessons we've learnt, our triumphs and even our failures. Growing up means wearing them as badges knowing we earned who we've become. Beautifully growing up means wearing them as crowns-celebrating the journey. This beautiful woman celebrates her 40th birthday today. I'm taking this opportunity to celebrate her kindness. A few months ago, I had mentioned [to her] in a conversation that a friend of mine who stayed not too far from her was ill. Shade called back to get her number, got her address and organized meals for her twice a day- everyday. I don't even know how long this went on-for someone she had never met. It has become clear to me that it's our virtues that really adorn us, much more beautifully than what we put on. Thank you for being beautiful S.O-happy birthday."
At the party, the venue smelled and looked like a million dollars – with dazzling multimillion naira ornamentation created by Abimbola Oladiran's Subtle Elegance Events – providing an atmosphere of sensory satisfaction for the invited guests. Everyone was entranced by the sheer display of elegance. The lighting and event coordination was handled to perfection by events exponents, Finesse Events.
However, the venue's regal charm would prove to be but a fitting backdrop to a more captivating vision – the celebrant herself! Mrs. Shade Okoya dazzled like a zillion stars in three different fetching outfits through the night which she complemented with two different shoe pairs by Ralph & Russo and Sophia Webster. Her lovely hairdo was the handiwork of Good Hair Ltd. while her stunning makeup was handled by Shomya Makeup Studio. Her first appearance at the venue came in a bespoke beaded ball gown that oozed royalty. She later slid into a heavy cluster shoulder dress and finally adorned a bespoke red jumpsuit. The troika of exquisite haute couture was the creation of top designer, Jacqui James in the United Kingdom. The exquisite jewellery with which she accessorised her outfits were of her own making. Her daughters also donned matching heavy cluster shoulder mini dresses.
With top comedian Tunde Adewale, popularly known as Tee-A coordinating affairs proficiently with the assistance of popular actress, Abiola Atanda aka Iya Kofo as comperes, Demola Olota and his band of merrymakers soothed the nerves of the guests with some dulcet tunes while DJ Lammy weighed in on occasion with a mix of old and contemporary rhythms. All the while the guests freely explored an exotic range of drinks and cocktails served chilled by Bonix, the appetizing finger foods served by the trio of Yemi Legend, Laredo Chops and Saheeto Small Chops, and the finger-licking desserts brought in by Eventi Cocktails. Everyone also had their fill of a mouth-watering array of cuisines prepared by the duo of Xquisite Catering and Malas Catering.
The celebrant's towering birthday cake with its buffers emblazoned with pictures of the celebrant was quite a sight to behold. The artistic wonder was delivered by Bakehouse Bakery and was undoubtedly one befitting of such a grand occasion. Justice George Oguntade (Rtd) supervised the cutting while the belle of the ball and her husband, surrounded by a handful of dignitaries, dug into the cake.
A first-rate party is never so without the colourful presence of the crème de la crème and this party did not want for big names. Alhaji Aliko Dangote, Senator Florence Ita-Giwa, Hajia Abah Folawiyo, Mrs Sarah Sosan, Chief Mrs Nike Akande, Mrs Kemi Nelson, Prince Bisi Olatilo, Justice George Oguntade (Rtd) and wife, Prince Samuel Adedoyin, Stella Okoli of Emzor Pharmaceuticals, the Osile of Oke-Ona Egba, Oba Adedapo Tejuoso; ex-Governor of Ogun State, Otunba Gbenga Daniel; Hon. Abike Dabiri-Erewa, Chief (Mrs.) Nkiru Anumudu, Ruth Osime, Lagos State House of Assembly Speaker, Rt. Hon. Mudashiru Obasa; Bashorun Dele Momodu, German Consul-Ingo Herbert, Omowunmi Akinnifesi, Enemaya Lawani, Chief Mike Inegbese and wife, Mary,; the CEO of Polo Avenue, Jennifer Obayuwana; veteran broadcaster, Soni Irabor and his wife Betty, Oba Saheed Ademola Elegushi and many more added colour and glamour to the elegant bash.
YBNL label boss, Olamide Baddo also made an outstanding cameo thrilling the celebrant and her guests endlessly.
Chief (Dr.) Folashade Noimat Okoya (nee Adeleye) was born in Lagos on the 25th of April 1977 into the family of the late Alhaji Taju and Alhaja Nimosat Adeleye. She is a devout Muslim from Ijebu-Ode in Ogun State.
She has all of her early education in Lagos where she grew up. She studied at the Lagos state Polytechnic, Isolo where she obtained a National Diploma in Banking and Finance. She later studied Sociology at the University of Lagos.
She is the Bewaji of Lagos, Otun Aare Iyalaje of Ajiranland, and the Yeye Oge of Epeland and recently the Ajisewa of Oke-Ona, Egba.  She was conferred with a Doctor of Science (Honorary Causa) in Business Management and Corporate Leadership by the Senate of European American University on 23rd August, 2014 and Most Valuable Business Executive of the year 2014 conferred on her on 11th December 2014 by the Board of Trustees and Advisory Council of International Centre for Corporative Leadership for Africans and Blacks in Diaspora and Accolades International Magazine Limited.
She is currently the Group Managing Director of Eleganza Industrial City, a manufacturing haven sitting on over 30 hectares of land and producing various sizes and designs of plastic chairs, luggage boxes, coolers, baby diapers, ladies' sanitary products, hair threads, stainless water tank, shoes etc. The company has over 1000 workers thus, providing employment to the residents of Lagos state and its environs.