In a moment of historical significance witnessed by thousands of cheering supporters, African Presidents, the cream of the continent's business and sports elites, soccer mega star, George Oppong Manney Weah is now the 24th elected President of the Republic of Liberia.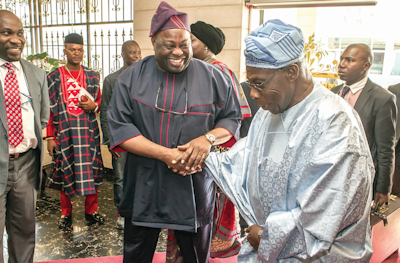 As he raised his right hand and planted his left on the Holy Bible, the football figure said the few words that officially made him the nation's No.1 citizen when the clock ticked past 12 noon in accordance with the constitution. The cheers that reverberated round the Samuel Kanyon Doe Sports Complex venue was deafening.
There was indescribable joy on the faces of hundreds who lined the streets and an expression of hope on the brows of thousands who braved the scorching sun to fill the stadium located in the heart of Monrovia to witness the landmark event live and also capture some moments for posterity.
It was obvious that the victory of this amiable President, who has achieved great feats according to the letters of his surname-World's best, Europe's best, Africa's best and Head of State (WEAH), was no fluke. He is Man of the People, very popular and well-loved.
THE MISSION TO MONROVIA
In these days of recession, not many media organisations will commit scarce resources to covering a swearing in ceremony though this one was certain to have world-wide appeal. At Ovation, celebrating the best and brightest of Africa is at the very core of our existence-and we were not going to miss this epoch-making event.
So when Our Publisher, Bashorun Dele Momodu, who was in faraway Israel called to say "Editor, get your team ready, check for tickets, we are going to Liberia", this reporter received the news with excitement and anxiety because of the many stories that had come out of Liberia especially during the war.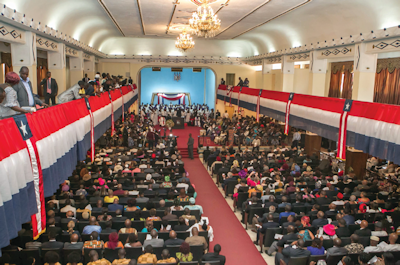 Due to our extensive travel schedules, though we use travel agents, we check and book tickets in house, that is how we have learnt over time to get good deals. And as a king of the skies, our Publisher had even began making his own preparations. He had hardly dropped the phone when he called back to real out the airlines that were now travelling to Monrovia, and bemoaning the huge cost of air travel within the African continent. To say the least, it is outrageously expensive!
Anyway, apart from that call, he had also contacted our long-time Monrovia-based friend and Media Practitioner, Chris Hayes Onanuga, who had begun the legwork to get our hotels and local logistics ready.
When D-Day eventually came, our team comprising: Bashorun Dele Momodu, Michael Effiong (Editor), Adekoya Adegbite (Photo Editor) and Oluwafemi Gabriel (Cameraman, Ovation TV) arrived the Murtala Muhammed Airport early for our 10am flight.
As is usual practice, Our Publisher whose dictum is "Never fly without something in your stomach" took us all for a sumptuous meal at tried and tested, Abibiz Restaurant and that was when we ran into amiable man of God, Bishop Isaac Idahosa.
Bishop Idahosa was in one corner, sitting quietly and reading a book, he was with an assistant. I had met him many years back in London, United Kingdom at the office of a mutual friend, another gifted man of God, Pastor Alex Omokodu, and we exchanged pleasantries.
Bishop Idahosa eventually met our Publisher and was gracious enough to present him with one of his books.  Interestingly, he too was heading to Liberia!
After what seemed like eternity, our Medview flight was called-and the Mission to Monrovia had begun. By now, the pictures of Liberia: the devastation, the Ebola, the poor infrastructure had begun to flash on this reporter's mind.
The flight was not direct. We had to stop over in Accra, navigate through Freetown before we landed at the Roberts International Airport, Monrovia. As we were making our final descent, I tried to look through the window to check out the skyline which sometimes give an inkling of what to find when you eventually enter the city, this formula did not help much.
On touching down, we were met at the foot of the aircraft by well-mannered Protocol Officers led by the Chief Protocol Officer to Her Excellency Senator Jewel Howard-Taylor, Vice President-elect.
We were all chauffeured to the VVIP waiting area, while our passport formalities and our luggage were being sorted. The airport was not gargantuan but I noticed that it was neat and tidy.
That was not all, I then went a step further to try out my formula of rating a well-managed airport: The Rest Room!
The one I visited at this airport was small, nothing fancy but it smelled fresh and the toilet seat was sparkling White! That to me was a pleasant surprise. It is true that you should never judge a book by its cover, Liberians sure knew how to manage the little things they have.
Just as we stepped out of the VIP Lounge, we were met by a group from the Nigerian Community in Liberia. They were singing, dancing and drumming. Wow, this was a shock! What an honour! In typical African setting, it was a lively way to say to us all "Welcome Home"
As the only one who had been to Liberia, our Publisher had regaled us with tales of his last visit and asked us to brace up for a lot of inconvenience. In the first place, he said the ride out of the airport to town was going to be bumpy. As Nigerians, we know what that meant.
Well, well, we were all in for a remarkable surprise, when our convoy, led by an outrider revved out of the airport and snaked into town, the road was silky smooth. There were no failed portions of that stretch of road. "This is amazing. Madam Sirleaf has really done magic here" That was our Publisher who was sitting beside me soliloquizing.
There was traffic when we got towards the heart of town, maybe because there was celebration in the air, there was so much economic activity around. And many businesses have sprung up too.
Unlike Many years ago, when there was no light in many parts of the capital and many people were on generators, the electricity seemed to have been restored. Liberia was certainly alive and on its feet again-from this first impression.
Boulevard Palace Hotel, located along a major road was our destination and when we got there, we discovered why our Man Friday, Chris Onanuga had insisted that it was this facility or none other.
Apart from the fact that it was the choice accommodation for virtually all the heavyweights: Presidents, former Presidents and super stars, it was an upscale and luxurious facility. You had a sense of being at 5-star hotel immediately you walk through the doors.
The hotel exudes elegance. The glamorous design, inspiring ambience and the service as we later found out was impeccable.
It also had its Public Relations Machinery working at over drive as notices were placed conspicuously of the special guests they were expecting: President Nana Akufo-Addo, former President John Dramani Mahama, former President Chief Olusegun Obasanjo, Soccer Super star, Samuel Eto'o. This was indeed a fitting Palace to enjoy the sights, sounds and hospitality of Liberia.
We arrived two days to the swearing in to enable cover as much of the celebration as possible. This turned out to be a very wise decision because there was so much happening in town.
We had been invited to a few parties one was by young, hardworking female entrepreneur, Ms Tella Uneya at her lounge. She said it will be a lively live band while the other was a disco soiree hosted by friends of President-elect George Weah,
Eventually, we did not attend any because jet lag set in and we had to rest and recover for our first official event, the thanksgiving and intercessory service scheduled for the next morning.
THANKSGIVING AND INTERCESSORY SERVICE
Eleven O'clock Ante Meridian was the time and the venue was the Centennial Memorial Pavilion for this all important ceremony.
Stepping out that morning, it was obvious that the whole country was in celebratory mood, the red stripes and Lone Star national flag of Liberia was flying proudly at every corner.
Also there were flag posts, lamp posts and huge bill boards announcing the fact that Liberia was about to have a new President and Vice President. The streets were also clean and green, from all indications, Liberia was prepared to welcome the world.
The Centennial Memorial Pavilion where the service was holding is a landmark monument. According to historians, this the place where the Presidents of the country were sworn in and it also houses many historical artefacts.
The organizers of this inauguration certainly did their due diligence, the venue was very appropriate.
With its impressive gothic columns and renaissance architecture, the hall was emblazoned in red white and blue and now filled with guests from across the globe.
With guests already seated, first to arrive was the Vice President, His Excellency Joseph Boakai and his wife, it was not long before, President Ellen Johnson-Sirleaf's arrival was announced and she was cheered each step of the way to her seat.
Soon, there was a din at the entrance and that was when everyone realized that former First Lady, Senator and now Vice President-elect, Jewel was in the house.
Graceful and elegant, with her trademark smile, Senator Howard-Taylor like the dye-in-the wool politician that she is, did not just stroll to her seat, she was waving to the congregation, shaking hands and exchanging pleasantries.
When Ambassador George Weah walked in, you need not be told that he is the Real Mccoy. Just like when the big masquerade enters the village square and the drum beats changes, that was what happened when this famous figure stepped in.
The whole place was buzzing with excitement as he walked in with his beautiful ebony beauty wife, Clar.
The service began with a call to worship with Rev. Tehpamubo M. Sayeh, Senior Pastor, Georgia Pattern United Methodist Church. This was followed immediately with the opening hymn "All Hail the Power of Jesus".
The nation's Chief of Protocol was the Master of ceremonies and he handled the event expertly and was assisted by the worship leader, Pastor Festus Logan, National Chaplain-General for the new ruling party, Coalition for Democratic Change (CDC). He explained that the reason for the service was to thank God for the success of the last administration and hand the new government into the hands of God for guidance and direction.
He. it was. who invited Bishop Dr. Nathaniel Zarway, Senior Pastor, Greater Refuge Temple, Oldest Congo Town to deliver the invocation and also introduced Rev. Melvin Dahn of the Christ Pavilion Ministries for the welcome statement.
The Combined Inaugural Choir soon took centre stage and their song, Na Muu Sann, meaning "I will extol Thee"in Kru enlivened the atmosphere.
The first scripture reading for the day was the responsibility of Bishop George Harris of Philladelphia Central Church, Oldest Congo Town and he read from Number 1:1-18 while Bishop J. Allen Klayee of the Jubilee Praise and Worship, Old Road took the new statement reading from St John 9: 3-5.
There was another musical interlude and this time it was soulful performance by Mrs Yassah Howard-Lee.
Rev. Joseph Gardea Johnson III, General Overseer, Restoration Baptist Ministries Inc, Old Road, Monrivia was the one who took the Intercessory Scripture from 2 Chronicles 7: 10-22 which affirms the need to never forsake the Lord in all their endeavours.
Next on the agenda was session of prayers and it was announced that the representative of each of the 15 Counties will step out to pray for the Republic of Liberia.
The prayer session was done in alphabetical order: Bomi County ( Bishop M Wolo Belleh, Bethel Cathedral of Hope, Monrovia), Bong County, (Rev. Lahal Sassy, Bethel Outreach Ministry), Gbarpolu County, (Pastor Elias Chebli,Mount Zion Favour Chapel, Monrovia), Grand Bassa County, Dominion Christian Fellowship, Buchanan), Grand Cape Mount County, (Rev. Wilfred Y, Morgan, Mount Calvary Temple of Jesus Christ Ministries, Monrovia), Grand Gedeh County, (Rev. Dr. Samuel  J Quire, Bishop LAC Methodist Church, Monrovia), Grand Kru County, Rev. Emmanuel Nimely, Jerusalem First Ministry, Monrovia, Lofa County, (Bishop Alex Dickson, Sure World Believers Chapel International, Clara Town, Monrovia), Marghibi County, Bishop P. Manesseh Conto, Mission for Today Holy Church, New Kru Town), Maryland County, Rev. Mother Glorious S. Kerkulah, Chosen Redemmer Fellowship, Duport Road, Paynesville), Montseraddo County, Prophet David Z.K. Jallah, General Overseer, Liberia House of Prayer, Monrovia, Nimba County, Rev. Lucy C.H.Bulgar, Peace Praise Full Gospel Ministries), Rivercess County, (Rev. Isaac P. Russ III, African Missionary Foundation, AMP, Liberia), River Gee County, ( Bishop Anthony Wennie, Army of the Living God Ministries, Old Road) and Sinoe County, (Bishop Matthew Kantan, Evangel Outreach Ministries Monrovia)
It was fitting that after this session of prayers, there came some entertainment. This was provided in form of a wonderful performance of Steve Crown's "You Are Great" by visually-impaired, Master Semah Weefur. He got a standing ovation.
There were also performances by Minister Evon Karweh, who sang "Papa, Put Them To Shame, Children of Liberia that belted the popular Igbo song,Ebezina by Niigerian-born Preye while Gifty sang Let Liberia be free.
A major highlight of this ceremony was the poem "King George The Great" by Master Willington Green of Solomon Christian School System, This kid sure has the potential to make it big in poetry or the spoken word, he was simply spectacular.
What could be considered as the highest point of the ceremony was the sermon that was preached by Bishop Emeritus Matthew Gueh of the Evangelical Congregational Chuch of Liberia, Gardenville.
This gifted man of God was very witty but firm, He looked the new President eye ball to eye ball and told him that Liberians were tired of procrastination and "what he had to do, he had to do it now".
He noted "We have waited too long for good roads, we have waited too long for health facilities, we have waited too long to have excellent government offices, the change you campaigned for should start immediately, you have to start work Now".
He also urged the legislators who were also present at the occasion to take their jobs seriously and jettison any conduct that will not move the nation forward. He chipped a few good words for President Sirleaf but in the whole his message was that Liberia action-packed leaders.
There was to be special prayers by Archbishop Nicholas Duncan Williams and Pastor Temitope Joshua, but it was only the respected Ghanaian Archbishop that was available and he showed the President, his wife, the Vice President and the rest of the country with prayers.
The service was rounded off by Bishop Dr. Isaac S, Winker of The Isaac Winker Dominion Christian Centre, Oldest Congo town, he read the final declaration and benediction.
Next Stop was the showcasing of Liberian Music, Arts, Culture and Fashion at  the Monrovia City Hall, this event went on till well into the night.
Almost simultaneously, Vice President-elect. Senator Jewel Howard-Taylor hosted a wonderful reception for family, friends and supporters.
It was a cosy ceremony where she used the opportunity to thank all those who had stood by her through thick and thin over the years. She specially mentioned Ovation Publisher, Bashorun Dele Momodu for his wise words and encouragement.
There were also short speeches by Bashorun Momodu, General Asiedu Nketia( Rtd.) from Ghana, Elisha Attai, Dayo Benjamin Laniyi and her sister. Everyone acknowledged that she has always been an indefatigable fighter for people's rights and an epitome of kindness.
THE INAUGURATION
There is no doubt that Ambassador George Weah had played many great football games in his life, the burly striker had plied his trade at many intimidating arenas, but all those moments pale into insignificance when compared to the role he was about to perform.
The whole of Monrovia was agog. The whole city was beautifully transformed into a carnival-like atmosphere. Everywhere you turned, you were confronted by red, white and blue decorations.
As early as 6am, the whole street was swarmed by a sea of cheering people. Many lined the streets, and waved as siren baring VVIPs were being ferried from the airport, a lot others were already heading to the Staduim. Even this early, the road was jammed. You could see a sea of heads miles long.
By the time, our crew arrived, the Sports Complex was filled to the brim, thanks to our siren-blaring convoy and our VVIP passes, we made our way to the front of the stage without any stress.
Though the formal ceremony for the swearing in ceremony had begun from 6.00am with the firing of a canon at Fort Norris to indicate the dawn of the day and another canon firing at 8.00 am for the hoisting of the national ensign, it was at 11 am that the real serious of the day occurred.
After the arrival of former President Ellen Johnson- Sirleaf and Vice President, Joseph Boakai, it was time for convening the 54th session of the Senate and House of Representatives for the sole purpose of seeing Mr President and Madam Vice President savour their moment of glory and being administered the oath of office.
With dignitaries such as Ghanaian President, H. E Nana Akufo-Addo, President of Senegal, H.E Macky Sall, Gambian President, H.E. Adama Barrow, President of Congo, Denis Sassou Nguesso, President of Togo,H.E Faure Gnassingbe, President of Congo Democratic Republic, H,E Joseph Kabila, Vice President, Professor Yemi Osinbajo, former President of Nigeria, Chief Olusegun Obasanjo, Former President of Ghana, H.E John Dramani Mahama, Former Nigerian Head of State, General Abdulsalami Abubakar (Rtd), Governor Abiola Ajimobi and wife as well as members of the diplomatice corps, the stage was set.
First to step into the stadium was Senator Jewel Howard-Taylor, she was not alone, she walked in arm in arm with her son. The stadium cheered and she responded by waving a white handkerchief lovingly in their direction.
The stadium rocked to its very foundation when Ambassador George Weah and his wife arrived. The teeming spectators  were singing, dancing and vigorously waving the Liberian flag. The roaring applause continued long after he had got to the raised platform, exchanged pleasantries with President Sirleaf and took his seat beside her.
Others who had come to witness this grand occasion included Nigerian businessmen Capt. Hosa Okunbo, Segun Adebutu and Tunde Folawiyo,
Barr, Michael Igbinedion, Hon. Omosede Igbinedion, Ghanaian businessmen, Mr Ibrahim Mahama and Divine Dzebla, Actor John Dumelo and soccer star, Austin Jay Jay Okocha, who caused a big stir when he entered the arena. In addition men of God, Bishop Isaac Idahosa and Archbishop Nicholas Duncan Williams were also there.
It was therefore a full house of Liberians who were filled with giddy optimism, celebrities and the world media that were present when Chief Justice of the Supreme Court of Liberia, His Honor, Francis Korkpor administered the oath of office.
As the clocked ticked a few minutes past noon, Ambassador Weah was invited to step forward and His Honor Francis S. Korkpor Sr., Chief Justice of the Supreme Court, Republic of Liberia took him through the oath-taking ceremony. The Vice President-elect also took her turn and it was administered by the Chief Justice and that was when the event reached its crescendo.
President Weah was stoic all through this memorable occasion but when he was adorned with the national green sash and the official presidential medallion, he was just too overwhelmed with emotion and shed a few tears.
He was back to his normal stern self when he took the microphone to deliver his inaugural address where he announced that Liberia was truly going to have a bright future and witness positive change.
The ceremony continued with the former President being escorted from her official seat and together with the President, was led out of the arena, after which President Weah took the national salute and inspected a Guard of Honor by the Armed Forces as the flag was being hoisted to indicate the beginning of a new administration.
Though the ceremony unfolded with military precision, a tinge of entertainment was injected into the programme to add a touch of spice. The Combined Inaugural Choir sang a couple of songs in Kru and English, while Master Verger Degori delivered a powerful poem eulogizing President Weah as the modern day Change Agent who has come to rescue the country.
The formal aspect of the ceremony ended with a benediction delivered by Pastor Joseph Garden Johnson III.
After this historic event, the first civilian to civilian transfer of power in decades, Liberia's 4.6 million people are hopeful that President Weah will score as many developmental goals in the Presidential Palace as he did on the football field.