Ghana and Cameroon lost a legal luminary when the retired Justice Emmanuel Kofi Jones-Mensah, father of Ghanaian lawyer, former beauty queen and philanthropist, Penelope Jones-Mensah and her siblings, passed on to glory. A lot of Africans still cherish the days of West Cameroon in its existence as a federated state. He was the first Attorney-General of West Cameroon, a position we now know as Minister of Justice. He served in this capacity at an unprecedented age of 26.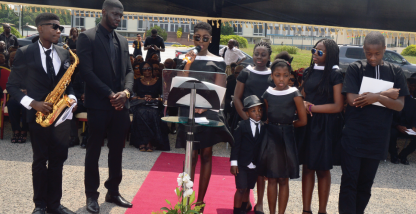 Justice Emmanuel Kofi Jones-Mensah was born in Victoria in 1936 and raised in Buea.
His father had moved from Ghana to Cameroon to become the Chief Financial Officer of the Cameroon Development Corporation (CDC), today known as Unilever.
He attended primary school in Buea government school. His secondary education was achieved at the prestigious St. Joseph's College, Sasse where he distinguished himself not only by his brilliant academic acumen but also his athletic prowess.
He excelled as the goal keeper for his college football team, being fondly referred to by his erstwhile schoolmates by the nickname "Water Snake" and "Mission Basket" for being such an excellent goalkeeper. Upon graduating from Sasse in 1955, he was admitted to King's College, University of London, where he studied Law. He was thereafter called to the Bar at the prestigious Grays Inn of England. Thereafter, he underwent a period of pupillage in London, and then earned his Master's Degree at the renowned Stumondt College of Constitutional Law at Queen's University in Belfast Northern Ireland. His tenure here would set the trajectory and establish his credentials and pre-eminence as an outstanding constitutional lawyer. This backdrop was the projectile that enabled him to change the landscape of the judicial system in a few countries in Africa which earned him great legal repute.
Upon his return from the United Kingdom he became the youngest person to achieve the heights of Attorney General of West Cameroon, at the tender age of 26years. This was then the highest ranking judiciary official in the territory and custodian of the constitutional rights of all Anglophone Cameroonians.
He led the Foumban Constitutional Conference that led to the reunification of English-speaking West Cameroon and French speaking East Cameroon. He helped draft the treaty that united present day Cameroon as well as overseeing the formation of the Mobile Wing police law enforcement division. He was Chairman and National Leader of the Boy's Scout.
He served as a change agent in Bamenda, Kumba and Banso and retained a reputation that sent shock waves throughout the country for his no nonsense and low tolerance for the lawless in society.
His ideological differences with President AhmaduAhidjo regime was well known. He was against the President's propensity to use decrees to override or amend constitutional provisions.
So when President Ahidjo decided to abolish the post of Attorney General of West Cameroon in favor of Legal Advisor to the President, knowing that he disagreed in principle with the President, he no longer felt he could perform his duties freely. With no guarantees for his personal safety, he opted to vacate his position, and go into political exile.
Justice Jones-Mensah then moved back to Ghana, where his father hailed from, and settled there in 1969. Shortly after he arrived in Ghana, he was appointed Justice of the Superior Courts Judicature and continued to demonstrate the sterling qualities that had catapulted him to greatness at such young age.
He retired from the Ghanaian bench in 1982 and went into private legal practice where again his spirit of excellence shone through.
He is known and admired by many for the notable victories he achieved in landmark class action cases. During his luminous legal career, he served as a high court judge in Tamale, Kumasi and Koforidua. The distinguished judge served as a Chief Justice of The Gambia. Being the consummate political animal, he also entered politics in Ghana and was once the Vice Presidential aspirant of PNC. He was a prominent member of the CPR and contributed in diverse ways to champion the cause of Osagyefo Dr. Kwame Nkrumah for Ghana and African as a whole.
An eminent statesman, Justice E.K Jones-Mensah was also a blue blooded royal and the stool father of the Dzelu stool of Dzelukope in the Volta Region of Ghana. He was a loving father to nine children and grandfather to twelve grandchildren.
The world is indeed a lesser place without him but the skies grew brighter for a new star had just arrived in heaven.