Never judge a book by its cover. This age long saying of the wise is perfectly true for Reverend Mother Esther Abimbola Ajayi.
This amazing woman of God is breaking grounds and like her Biblical namesake is finding favour in the eyes of not mere men but Presidents, Monarchs and leading lights of society.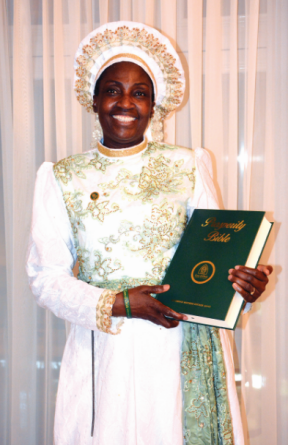 But like all successful people, no sooner had she become prominent that tales have begun to emerge about her, some have been positive, others negative.
But everything you have heard or read about this powerful, spirit-filled daughter of the Most High pales into insignificance when you meet the lady fondly called Iya Aladura one and one. She is a charmer. Yes. She has a charming, disarming smile and joie de vivre that can light up the darkest of rooms as we found out during our encounter inside the 5-star Shangri La The Shad Hotel, London.
That meeting gave an inkling into why her church, Love of Christ Generation (Cherubim & Seraphim) Church in Clapham, London is making waves. She is a stickler for time who has penchant for hard work and excellence.
Her church has grown in leaps and bounds not for anything but on account of its magnificent worship centre (a Grade A-listed Cathedral), its bubbly style of worship and its strict adherence to Biblical values.
Little wonder that the 10th Anniversary of her Love of Christ Generation (C&S) Church was so well publicised that it literarily shook the ancient city. The Thanksgiving Service themed "Harvest of Divine Favour" was not only well-attended but was joyous, soul-lifting, and angelic.
The church is taking Christendom by storm, and the lady at the centre of this spiritual revolution is so unassuming and humble that you wonder if she is from another planet. Those who do not know her trajectory will weave all manner of stories around her life story but life has not always been rosy.
Before she embarked on this spiritual sojourn, Rev. Mother Esther Ajayi was enjoying her life to the hilt in Nigeria.
She was having what could be considered a fulfilling life. Loving husband, lovely children and a thriving business.
Though she was a serious Christian and a member of the C & S, she never saw herself as the preaching type. A couple of people have been telling her that she has some spiritual powers, but she usually laughed those sort of comments off. In the inside of her however, she was convinced that everyone's steps are ordered by God.
She fervently believed that God can take anyone or anything and do great things with him or her. Thus, when it was obvious that she had been called, unlike Jonah who initially ran from serving the Lord, Rev. Mother Esther stunned many close friends and family members when she decided to uproot her steady life in Nigeria to head to the UK with her young children.
According to her, she had no firm plans at the time. All she wanted to do was to obey God and relocate to United Kingdom to preach the word. The only thing she held on to at that time, which has remained her strongest weapon is her unshakeable faith in God. The kind of faith she has now christened Crazy Faith.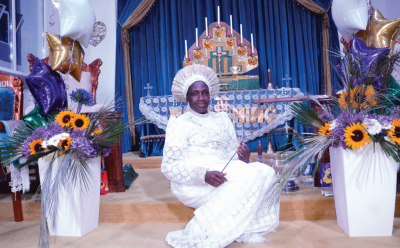 The beginning was rough and tough, there were so many travails and tribulations, things were so bad that at some point, she and her family were homeless, they were living off a suitcase and sleeping in a Bed and Breakfast. Like Job, she did not curse God for bringing her all the way to suffer, she praised and worshipped him the more.
In fact, it was in the midst of this turmoil that her church which began in her living room with her children began to take shape and began to develop amazing dreams. One of those seemingly fantastic dreams was to have a cathedral, a befitting  place of worship for the Lord.
She stated that when she saw the Church property, she at once knew that "This was it". It met all the criteria for her kind of church, but there was a snag. She did not have the jaw-dropping five million pounds asking price minus renovation.
They do not call her Iya Aladura (Female Prayer Warrior) for nothing. She got pictures of the property.
Pinned them to her wall and began daily prayers. She prayed without ceasing.
God soon performed the most outstanding of miracles. According to her, one day, she got a call on her Church's official prayer line and as is her usual practice, began the session by praising God and mentioning His name so many times.
The person on the other side of the line was so impressed that she decided to personally visit Iya Aladura Esther Abimbola Ajayi. During that face to face meeting, the Rev. Mother again began her wonderful praise routine. And the lady was surprised that the spiritually endowed Woman of God was mentioning the different names of God so effortlessly, confessing that she had thought while on the other side of the phone that Rev. Mother Esther Ajayi was reeling them out from a book.
It was this woman and her husband who eventually paid for the Church property, its renovation and laid the foundation from which Love of Christ Generation Church has built on to reach its present pedestal. God surely works in mysterious ways.
During our meeting, her confidence, optimism and unshakeable faith in the powers of God Almighty so filled the room, that it was very infectious. She was quick to say "Christ is in me that I can do all things through Christ" Technically, giving all the Glory to God. Impressive!
We also observed that she has an unapologetic swagga, a unique style that people who are familiar with the C&S church rarely see. Indeed, she said she has set out to create a buzz by breaking the myths around that Christian sect. Her goal is to show that apart from the white garment, the C &S has swag and can attract the youths and upwardly-mobile generation. One thing we also noticed was her energy, she attributes this to a healthy, disciplined lifestyle.
She actually teaches healthy living through her Fit Faith Club-and she revealed that serving God, for her, is a total package.
During this our engaging interview conducted by our Publisher, Dele Momodu and Editor, Michael Effiong, Evangelist Ajayi was completely at ease with herself. It was a cheerful, honest and revealing encounter… Enjoy
Reverend Mother, we have seen a lot of your pictures, and you were always smiling, is there a reason behind this
The thing about me is that I believe that "as a man thinketh, so he is."My heart is always pure; as I am looking at you, I am looking at someone who will become a billionaire tomorrow. That's how I think, that's my mind- a free heart. Come to think of it, when you are angry; you cannot smile nor say good things. So, why don't you remain pure hearted and do your thing naturally…I do my thing differently. I smile because it spreads joy. It is also healthy to smile.
How did your encounter with Christ start
My encounter with Jesus Christ is actually an interesting one. I have always been having dreams; sometimes I see myself holding a very big Bible. Sometimes in my dream, I see myself grabbing some people and getting fetish things out of churches. And then, some people have said to me when I visit churches and different prayer mountains that I was destined to do God's work; at such occasions, I usually laughed. I never took any of such predictions seriously.
However, in 1997, I was in Abuja at that time and the then National Electric Power Authority (NEPA) was owing me N4.2million for some apartments that I furnished for them. I was into interior and furnishing business.
I was in a taxi one of those days and the driver was taking me home to pray. I believe in hours of prayer (9,12, 3 and 6). So, it was 3:o'clock in the afternoon, and I started praying, and the guy said in Yoruba "mama e n gbadura ni?" (Mama, are you praying?), and I replied in the affirmative. Like I said, I do my thing (pray) at any place; it might be 2minutes or 3, I will just do it. And my prayer point was that the money NEPA was owing me that God should intervene, so that I will get paid. The driver joined me to say Amen.
Thereafter, he informed me that there was someone we should also consult for prayers on the matter.
He mentioned Mrs. Esther Okutoyinbo, whom he described as a spiritual mother that was living in Abuja.
When we got there, immediately she saw me, The Woman of God said; "our mother, pray for me; if you don't pray for me, I would not allow you leave this place." I was confused. I asked myself, what is she saying?
I had come for prayers but I now have to pray for the same person I had come to help me pray. Anyway, to make the lady happy, I prayed and she kept shouting Amen Amen
When I finished, she said look; "You are going to be a great preacher of the Word, all over the world." She then told me firmly;
This is the sign that will tell that God wants to use you, the money they are owing you; they are going to pay it in the next seven days…"That was a heart-warming prediction for me, it was the kind of news I wanted to hear, because I had borrowed the funds used to execute the job from Intercontinental Bank and the bank was charging me N180, 000 per month interest on the facility.
Days later, I went to visit General Oladiipo Diya, my husband is from Odogbolu, and had gone to see him as a desperate measure because he had warned me never to take any government contract.
I had sneaked behind his back to get this one and since I had run into problem, I had no choice but to let him know. And seek his help.
When I told him the misfortune that had befallen me, And he said "but I have told you not to go near this government to do anything. Anyway, who is there?
Abulu…" He called on Major Abulu, one of his aides. He instructed Major Abulu to go with me to NEPA the next day. Luckily for me, Abulu is one of those his aides I have lways been nice to, so he was very eager to carry out the instruction from his General.
So, Abulu went with me to NEPA; to cut the long story short, on the fifth day after our visit, I got paid the full amount. I was stunned.
I was shocked because, I was not expecting all the payment at once and also that the woman's prediction had come to pass.
After I took the money, I went back to pay my tithe to her church and she said; "Pray for me again." And that was when it dawned on me that God was calling me to do his work.
Interestingly, before this incident, in 1993, I had gone to the Faith Bible College. I did a course in Theology for no reason.
I had no plans to do anything with it, I just had a free time and decided to expand my knowledge. You know God has a way of preparing us for His assignment and we won't know.
Later, I went when back to do a Diploma and finally a Bachelor of Arts in Theology. I was just doing my thing, because I wanted to get myself more conversant with the Bible. I was not thinking of being a church owner or anything of the sort. That was the foundation of my journey.
At the service on Sunday, you spoke about how you left Nigeria, how difficult was that moment when you uprooted your family and relocated to the  UK
From that moment the vision began to take shape. I was praying for people regularly. It got to a point that I will pray for people and the next day they will say; "Mummy thank you for the prayer, I have come to bless you" and they will bring me a gift, I will say don't bless me, bless God and Praise him.
In year 2000, our first son came to England. I am Cherubim and Seraphim to the core; I love it. And when he came, I arranged lots of prayers for him. When he came here, it was like he took all the good luck that the family enjoyed with him. Things just stopped; everything businesswise began to slide. But on the spiritual front, I was seeing visions, I was praying for more people. And when I go to the prayer mountains like Mount Olorungbebe, Mount Erinmo, Iragbiji, Ikirun and the likes, Prophets there will tell me that I am supposed to be preaching among white people and God is about to use me mightily.
By 2004, my business was in very terrible shape; my office then was on Herbert Macaulay Way, that's where I had used for several years. Thereafter, I told my husband that from the look of things, it seemed God was telling us something.
It was surprising that my business was slow because I was doing business with the very rich in the society. People like the late Ooni Of Ife, Oba Okunade Sijuwade, General Joshua Dongoyaro and General Oladipo Diya. Things became so bad that in 2004, we just packed our things and came to the United Kingdom. Our journey to London is another story altogether.
Kindly tell us about it
Before we went to London, I had a dream that I was talking to Ooni of Ife, Oba Sijuwade. He called me and asked where my son was, and I told him that he had gone to the UK and Kabiyesi wanted to know if I had gone to visit him and I said no.
And wanted to know if he could get me a passport and that was when I woke up from the dream. The following morning, one of his Oloris (queens) called me to inform me that Baba would like to see me in Ife that he wanted to make some furniture.
After I delivered the furniture, he asked me where my children were, and if they were doing well. He wanted to know if everything was okay.
I told him that everything was okay but that my first son had gone to the UK. He asked when I visited him last. I told him I had never been able to visit him.
He then called his Secretary, he used to have a White Lady as Secretary, he instructed her to get me a passport, facilitated my going to the British High Commission and obtaining a visa. He then asked if I would love to go with my husband, and I said yes, my husband and my other son and that was how Kabiyesi got all of us visas to the UK. And then we came to England; to God be the glory, I was able to see my son.
We came in on the 9th of April, 2004, I was there till May. My husband was sick; he brought malaria from Nigeria, and he was admitted at St. Thomas's Hospital.
At that time my girls were in Nigeria, so I had to rush back to see them because my mind was not at rest.
Back home, people were still insisting on the vision about me preaching in the midst of white people. Then when I got to Nigeria, people were saying the way forward for me was to leave this country; a lot of people will say God wants to use you abroad, better go there now.
So, I went to see Kabiyesi again. God bless his soul. I told him that I have been to the United Kingdom; my husband and sons have stayed behind; I want visas for my two daughters. He said you must think I own the whole embassy; I said; 'Kabiyesi, alase niyin.' (You a very capable person) I don't know how you are going to do this", and then he said; "Okay, if it's God's will, let's try it", and that was How my two girls and I also moved to United Kingdom in 2004.
That was it. It was going smoothly initially; we were worshipping in somebody's church, and the visions and predictions started coming again, and they kept saying "you are going to own a church." …the rest, as they say, is history.
So, when did you start your own church
We were in that church till 2007. At some point I became uncomfortable there because the pastor was doing things I didn't like. My principle is either you are for Jesus or for the devil-call a spade, a spade, that's my life.
When I saw how things were going, I phoned Baba Tobitolase of blessed memory of the Eternal Sacred Order of Cherubim and Seraphim; I told him that something is happening in that church and I don't want to go there again. And Baba told me that what was happening was from God Himself.
He said that he was going to arrange some prayers for me. He instructed that I should phone him back the following day, which was a Sunday. He told me that he was going to put together a league of prophets to pray about this matter. Thereafter, he now said he has asked everyone to fast from Monday, that God was going to find me a church.
Meanwhile some other people were saying negative things that I will soon get tired and that "this country, they will take white garment from you"; It was a very tough moment for me, at a point I even found myself in one Baptist Church at Eglinton while waiting for the prayer sessions. Anyway, Baba later called to inform me that he had a message.
That God had great plans for me, that he was going to find a church for me and that when that church will be celebrating 10 years, it will seem like 100 years. I can never forget that statement. That by the time we are celebrating 10years of that church; it will look as if it's 100 years. When I think about that message today, I marvel at the power of God. It was a touching revelation.
After then, I had a dream; in the dream, I saw some plastic chairs and an altar. The next morning, I went to buy chairs, I bought the exact same chairs I saw in the dream and also made an altar.
Then, my husband and children were saying who is the owner of the chairs; and I told them it was the chairs for church, and they asked, were are the church members? and I said; "it is you people" and they were all laughing. We then began fasting that Monday.
On Friday, the Head of Cherubim and Seraphim, His Eminence, Pa Solomon Adegboyega Alao – was in the United Kingdom. He didn't come for me but that Friday, he said we are going to observe a night vigil. And I went to the former church and told the man, this is the request from Baba.
My husband was like why do you want to go there but I insisted. I told the leader of the Church and he was saying something like he doesn't want me in his church again, because he said everybody cannot be like me, that I was too truthful. For me,  I can't lie, that's me. I say things as they are, So I left and we had the vigil.During the vigil I had written the name of the church by then and we prayed.
Tell us how you got the name of your church
In 1992, 93 in my first year in the Faith Bible College. There were two ladies: Sister Lydia and Sister Esther, and a guy called Akeredolu, who is now a Reverend. We did vigil in my home in Nigeria, and then, Sister Esther went on trance, she said God is going to found a church through me, and the name of the church is going to be "Love of Christ Generation;" I did not write it down.
I was just laughing, asking her "Me? Church?"
How is that going to happen? Before the Friday vigil I just told you about, I phoned the woman that used to ask me to pray for her in Abuja, and she said; "God said He is going to found a church through you in that country and that church is going to be all over the world. And that whatever name God has given me; God said I should add "Glory of God Shines" (Ogo Olorun Tan). When she said that, "Love of Christ" that was mentioned in my prayer room, in 1993, just rang in my head; and I wrote it down, "Love of Christ Generation Church (The Glory of God Shines)." That was the beginning of the church; 2007, September 2nd, we did our first vigil.
Alongside starting the church, my husband was seriously, sick, we became homeless, my husband went back to Nigeria; there were so many ups and downs, tribulations but I was comforted by the book of John 16: 33, He said we should be of good cheer that he had conquered the world. And here we are today.
People say white garment churches are not very modern, that you conduct your services in Yoruba. How have you been able to carry everyone along
You know I was in someone else's church, and I have seen the shortcomings there.
During the time we were having tribulations, God helped me to utilise that time very well. When the church started and when we were evicted, I started going to conferences…one day I was watching God Channel, and I saw many American preachers, some will be talking about private Jets, they will be talking about the wonderful work of God and speaking in front of their large congregation.
I was asking myself how come these people are having all these great things, are we not calling the same Jesus? I began to say to myself, what are they doing differently, what is going on?
So, I went to one of Benny Hinn's conferences; There, I was lucky to meet him and we had a one-on-one interaction. I said to him; "you preach the gospel of Jesus and so many great things are happening around you." I told him that I've been to Bible School and all that, and now I wanted to know his success secret And he said; "Pastor Esther, the power is in giving; if you can give, God will open His windows."
I'm a giver; since childhood I've always been like this".
Then, another day, I was watching God Channel again, Dr. Mike Murdock, of Wisdom Centre was preaching and it was as if I was the one he was talking directly to. He was just speaking about making a decision and commitment in the vineyard.
So when Murdock had a Conference at the Hilton Here in London; I wrote down the date and made arrangements to attend.
I met him. During the conference, he said any dream you have; your dream car, house or church, place the photograph all around you, the more you see it, the more God remembers it, and the more you talk to God about it. I took that away that day.
I have seen a dream cathedral, and I pasted it all over. It was that cathedral that led me to the cathedral that you saw on Sunday, the one we eventually bought and are occupying today to the glory of God.
Do your thing differently; that's the thing. When I spoke to him as well, he said the secret to great wealth is giving. I spoke with David Cerullo too; he also said the same thing, and I concluded that I had to start giving and see what giving can do. And giving can actually do a lot, and that is where I know the Bible is complete; The book of Luke 6: 38, "give and it shall be given unto you…" it said 'give'; it didn't say give press down and shaken together. Just 'give'. And what will be given back to you is in good measure, pressed down, shaken together, running over…So when you do your thing differently; there will be a different result.
That's all about our church. We do not have any power but the power of God and the secret is giving.
No matter how deep your debt is, the Lord can free you from it but you have to give. When I understood the act of giving with expectation from the Lord, I started giving the little I had, the more I gave, the more increase I got. The Lord wants many people to give the little they have now, so as the get more. I can tell you that it works. If it works for me, it will work for you.
On your question on Yoruba Language, in the Cherubim and Seraphim Church, we speak Yoruba but we have also infused many things to how we worship at LOC.
You know I brought my children from Nigeria: They are 33, 31, 27, 21 year olds and since they are all growing together, they also have a way of stimulating the young people of their age and since they know what their peers love, they have added that feel to the pattern of our worship; So I learn from them.
When you are talking to them in the style they can relate with, they love you, they want to listen to you and then they say 'Iya Adura" is everybody's friend because we flow together. I come to their level, and when you do it differently, I think that's what is elevating "The Love of Christ Generation Church;", we are doing our things differently from other Cherubim and Seraphim churches. We are Cherubim and Seraphim but we want to change the face of white garment churches.
On the day you celebrated your 10th anniversary, I noticed you said women should not wear ear-rings…how do people react to such injunctions
In the world today, you see gathering of people in a Church and you will think you are at a party. I do not tolerate such things.
Even when some people are going to the night club, their faces are not as painted as some people you find in some churches.
What some people wear to some churches these days is something else. Even in white garment churches, you see tattooed bodies and ladies dressing loosely that to me is not right.
Let me tell you, for ladies, if a guy is born-again; he is not blind, he can still see and appreciate you without your dressing half-naked.
Each time I see myself dressed up in my room, I consider these things. When you are coming here, you pull off your jewellery. When I'm doing circular things, I put on my things but when I am going to be in the presence of the Lord, I am different, I must give reverence to God. Gathering of Christians should be different from the gathering of jezebels.
I also saw a quote where you mixed faith with fitness, how do they go together
We call it 'Fit Faith Club.' If you are spiritual, and not-physically alert, then you are not balanced, at one point that physical defect is going to affect your spirituality.
If they are saying, "stand up and clap for Jesus;" and you can't stand up. When singing the song "I feel like jumping…" and you can't jump; at one point it's going to affect your spiritual life. After sitting down and thinking of it…I used to be size 24, and when my husband was sick; what happened to him was that his blood was not going through his vein in the proper way, it was going into his skin; it was terrible. It was a wake up call for me too I started going to the gym, and I then found out that it actually complements my work by staying fit.
There are a lot of ignorant Christians, who think everything is Jesus. Jesus Christ is a miracle worker, and not a magician. If you eat pounded yam at 10:30, 11pm, and you do this for like 3 months, something is going to happen at some point. After eating carbohydrates, you go to bed; that pot belly is not going anyway, except you start doing exercises, because He is not a magician, He is a miracle worker.
When you start to do exercise, you will feel better with yourself.
I do not begin my day without engaging in one form of exercise or the day, no matter how busy my schedule is. I went swimming and I swam rigorously for about 30 minute, before I felt ready for this interview. It has become part of me. After the altar, exercise is the next thing for me, because from size 24 I eventually got to size 12; I have been on this size for about 5 years, and I'm maintaining my thing. I tell you what, it feels so good. Physically if you are okay, at one point you will be spiritually-balanced too.
Talking about your husband through the journey…how supportive has he been
My husband has been highly supportive, For example, when I got to the Diploma class at the Faith Bible College; when we were having our graduation, he came.
Before, he used to look at me and say,, " This woman, is it Bible that you will be reading from morning to evening every Saturday?" when we were doing our graduation, he came, and the Holy Spirit arrested him, he didn't know where he was for about 2, 3 hours; and he joined the Course. He had just finished his PhD, and lecturing at the Faith Bible College. He has been supportive; we started this together. When he got here, they were saying the way forward regarding his health is for him to go to a hot country, because when there is sunshine the 'blood clotting' will not happen. We were thinking of relocating to Florida but I said, that means we would go to somewhere else and start all over again. Then I asked God, and the decision was Nigeria where he was familiar with and had a support system around him. So my husband now lives in Nigeria. He has been supportive, highly supportive.
How did this idea of 'Crazy Faith come About
Crazy faith!!! When crazy faith is mentioned I become so emotional because what most Christians are looking for is what God has given me easily.
I have Faith! I believe God for everything, I believe Him for my private Jet; at one point we are going to do the 'private jets crusade.' The Lord told me this when I went for a conference…Just like our Cathedral, when I saw it, the Lord said I should
be walking in front of it, that He is going to talk to me. At one point, I did the inspection, I went to the estate agent, I gave them my passport, and I told them I was coming to pay, without having 1,000 pounds in my account. I placed the photograph of that old cathedral everywhere, I was going everywhere with it; that's crazy faith.
Nobody can even believe that it was that picture the people that became my benefactor saw on my wall that caused them to act. They were like; "mama what's this?" and I told them that's the cathedral I am trusting God for; and they said with the names of the Lord that you call? that is too small, look for something greater. Anytime I want to pray for anybody, especially when they call me on phone for prayers; it depends on how the Holy Spirit would lead me but three quarters of the time, I love to call different names of the Lord. "in the name of Jesus Christ, Son of God, King of Kings, Lord of Lords, Shekinah Glory…healer, physician, Jehovah Jireh, Elohim etc"
I mentioned the names of the Lord; then, I prayed, I didn't know they noticed this aspect of our discussion. Thereafter, they came, and they wanted me to pray again; I think they wanted to be sure that I was not reading from a paper. It was part of me, so I just did my thing, it just flowed and they must have been very impressed.
You know I am Yoruba woman, and I've been using this for my children several times; if I eulogise any of my children before sending him or her on errand, they will surely go with smiles of their face, because that praise serves to ginger them. I believe eulogy can also ginger God, and make me engage the attention of the Lord; and I have seen myself in dreams calling different names of the Lord.
So when they came and I did it again; it was later that they confessed that  as I was praying they opened their eyes, and peeped to watch was I was doing. And they said; "with the names of the Lord you are calling this one is too small; even if it is only the name of the Lord you will be showering on our heads, we are covered." That was how we got the cathedral where you came to celebrate our 10th anniversary.
Congratulations on your Tenth anniversary. In another 10 years what should we be expecting from you and the church
In another 10 years, as the good God lives, we would have built an Empire for christendon. I have got great dreams; if He can do this, he can do greater things that is how I see Jesus. A lot of people have seen the vision, people like Baba S.K. Abiara, His Eminence Dr Solomon Adegboyega Alao, they have told me the vision; even Pastor Matthew Ashimolowo, when I went to his church, he predicted that he sees me getting a landed property that is going to be massive; that is where I want the Lord to take me.
At that anniversary service the church was filled, people were dancing outside, inside, upstairs, everywhere; so we want an empire, where we can actually have a massive land that can take thousands. I am saying something like 100 hectares that we will develop by the time we are twenty. I am praying for the Lord to do something great for LOC and I know He can do it; he created the whole universe, there is nothing he cannot do; that's where I want Him to take us to, and then I am believing Him for our private jet.
Private Jet
Yes, Private jet, our assignment is global. We need the best tools to do His work. We cannot settle for anything less than the very best.